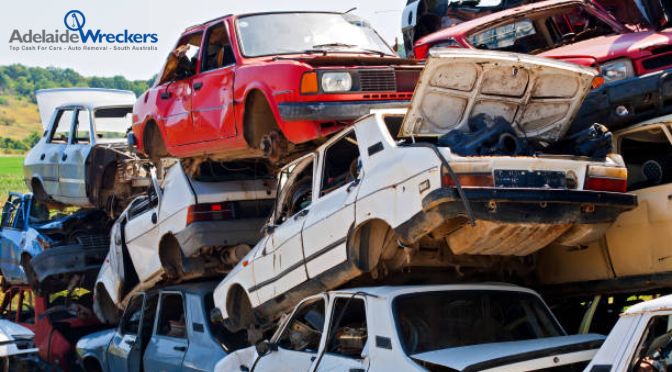 A damaged car featuring your house front is not just a visual turndown but detrimental to the surrounding environment. Whether your car is engine-dead, smashed, accidental or written off, you should dispose off your vehicle as soon as it becomes a non-runner. Preserving an obsolete car yields no returns, instead, it degrades in value. Regular exposure to rain, humidity, moisture wrecks havoc on car components and a time comes when car buyers refuse to pay the price your vehicle truly deserves. Hiring Adelaide Wreckers can help you discard your junk vehicle in a hassle-free manner and maximise yard space.
When you decide to trade in your scrap vehicle, the first thing that strikes your mind is finding a reliable buyer and getting a better deal in exchange for the scrap. These are genuine issues. It is difficult to find genuine buyers willing to pay a reasonable price during unwanted car removal in Adelaide. People often believe that damaged cars do not yield good returns, but this is far from the truth. Junk cars may have certain workable components that can be easily utilised in other vehicles and make them run. Sellers want to get rid of scrap cars as they consume too much space and fetch overhead expenses such as garage rent, pollution checks and recurring maintenance costs. However, wrecking helps in freeing up space and making junk car selling a pleasing experience. Unlike a private sale, you don't need to wait for months in search of a reliable buyer. The moment you place a call, wreckers would arrive at your location and pick up your vehicle, making scrap car removal in Adelaide a breeze.
Top-Dollar Cash by Wreckers
Car owners who aren't aware of the benefits of wrecking and opt for private sale, don't get the desired deal as most buyers offer lowest quotes taking undue advantage of written-off cars. In order to curtail the price intentionally, they cite lame excuses of flaws, damaged car components and fool people. However, this is not the scenario in wrecking. Car appraisers analyse the in and out the vehicle and offer fair valuations regardless of the make, model and condition. They are very particular about their reputation and keep abreast of latest market rates to pay exactly what your junk car deserves. To ensure highest customer convenience, auto wreckers offer upfront quotes over the phone as well. If you are willing to discard your vehicle against fair cash, hire used car removal in Adelaide and make junk car selling hassle-free than ever.
Eco-Friendly Car Disposal
Damaged cars pose a severe threat to the environment as rust-infested car components release toxic fumes that spread into the air and harm mankind. Additionally, brake fluids, chlorofluorocarbons etc., decompose into the soil, triggering high potential for groundwater pollution. Removing abandoned vehicles without causing carbon footprint requires professional expertise, which can be best achieved by car dismantlers. Having a wealth of experience in Junk Car Removal in Adelaide, they resort to green car removal techniques and tow your vehicle for free.
Why let your obsolete vehicle consume unnecessary space? Get in touch with us at Adelaide Wreckers, and dispose your junk with least fuss. We are prompt and follow a holistic approach to make car removal pleasing and hassle-free. For upfront quotes and best customer support, call us today!