We all know that time takes a toll on everything that comes in its way. And, this is no less true for Mitsubishi makes and models. Therefore, if you have a Mitsubishi car, truck, van, Ute, SUV and 4WD, you can't expect it to live forever. After some years of service, all vehicles need a maintenace. If you are currently having a scrap, worn-out or out of service Mitsubishi vehicle, then you can hardly sell it through traditional sale procedures. But, you need not worry, because you can still sell it for good cash when sold for its scrap metal worth.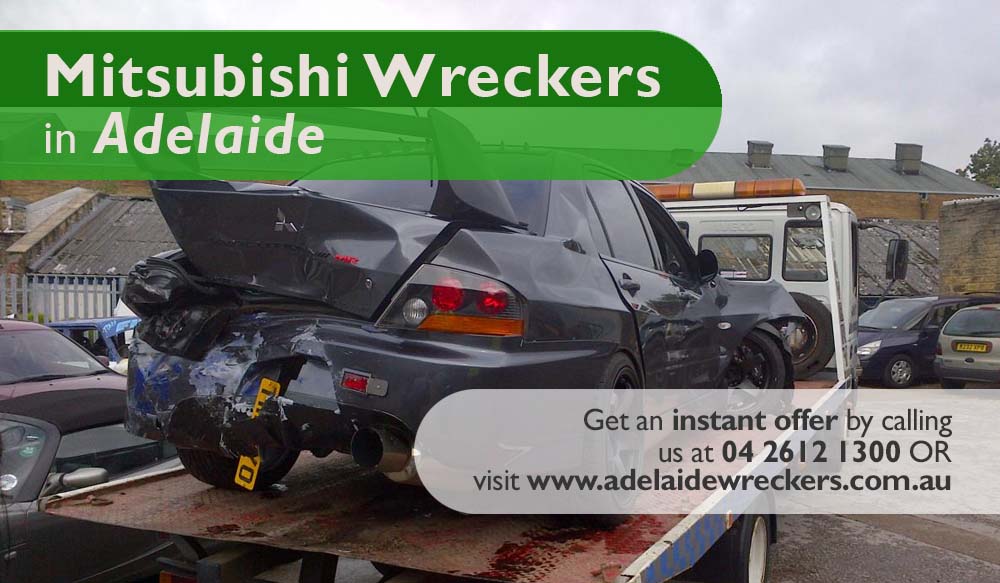 Here at Adelaide Wreckers, you can sell your old or scrap Mitsubishi for top dollars up to $9,999 and get a free removal service throughout the Adelaide. Request a free vehicle valuation today by visiting our website.
Free Cash Assessments
We understand the clients' need to know how much they will get paid for their vehicle while selling it to us. This is why, we offer cash for car services that are easy to access, understand and use. Therefore, we provide a service in which you can contact us to get a free cash assessment of your vehicle at any time you want. Our services are available 24/7 and you can expect to get the fair, precise and best cash quote. Call us right now at – 0426 121 300 or complete the simple appraisal form on our website.
Our Junk Auto wrecking service is available for all Mitsubishi models
As a leading Adelaide  Wreckers, there is no particular make or model that can disqualify your vehicle from selling it to us. Because there is not a Mitsubishi model that we won't accept. Mitsubishi Lancer, GTO, Rodeo, Colt, Storm, Aspire, Dion, Galant, Sigma, Montero, Pajero, Magnum, Vanwagon, Endeavor, Eclipse, FTO, Outlander, Mirage, Nimbus, Scorpion are all popular models that we deal in. But we do not stop here, all other Mitsubishi models are also a fair play for us.
Mitsubishi Parts at competitive rates – with variable warranty
We at Mitsubishi Wreckers Adelaide, stocks a wide range of quality second hand auto parts and accessories for every Mitsubishi makes and model including 4×4 & trucks. More than that, our parts are backed up with a limited period warranty that may vary from part to part. All our parts are well-engineered and offer reliable performance. Because we ensure to test them properly before placing for sale. So, if you have a Mitsubishi that needs a part replacement, book your desirable part with us today. We also deliver car parts online and at our customer's door all over Adelaide, SA. Delivery charges are applicable though.
Quickly Accessible Removal services all over Adelaid, SA
Regardless of whether your vehicle is in a running condition or not. We will remove it from your location wherever it is in Adelaide. We never make our customers drive their vehicle to our salvage yards. Even if it is out of repair, rusty or even not-roadworthy. Instead, we come to your premises and pay you cold hard cash prior to its collection. Being the best Mitsubishi Wreckers in Adelaide, we believe that it is our responsibility to transport your vehicle to our premises using our own equipment and at our own expense. We not even charge any extra dollar for the removal and so ensure complete customer satisfaction in our services.
Ensure to provide auto wrecking services to every location of Adelaide
As we keep our clients on top, our vehicle removal services are entirely hassle-free, responsive and reliable. We offer excellent car collection services that are available for the clients all over Adelaide, no matter in which part of Adelaide they live.
Check out the Adelaide Wreckers Service Locations for more details.